This comprehensive guide details every aspect of the Room Creation process for designers and users looking for maximum customization.
Table of Contents:
Introduction
Our Social Presence ® meeting platform enables new ways to move and mingle before, during, and after meetings. Every meeting is held in one or more spacious rooms, so guests can move, join conversations, and make the meeting their own. People who attend meetings pay more attention because they have more agency.
Hosts of meetings also have more control. By designing a room to fit a specific business need, a host can create context that enriches the socializing and communication experience. The purpose of this guide is to help you host meetings that achieve better outcomes for your business. Cohesive teams, more engaged customers, higher sales, and better engagement across geographies.
If you don't have any time to custom design your Room, don't worry. Every room comes with over 40 ready-to-go background themes, 20 music playlists, and the ability to name the room. By choosing a ready-to-go theme and a playlist, you can create meeting context with just a few clicks
Also, we have design services available if you need assistance making your room perfect.
In just a few minutes, though, you can put your own creative touch and brand into a room. This guide shows you all the ways you can design a room.
Before you start designing, though, consider what you want to do in the room.
Design Considerations
When designing a room, it's helpful to think ahead about what the room will be used for and how many guests are expected to attend.
Room Purpose
Rooms can be used for any kind of meeting or event where brand context and socializing can add richness and increase guest engagement. Here are just a few examples:
Networking Event
Large Sales Meeting (20+ attendees)
Sales Meeting
Marketing Event
Team Gathering
All-Hands
Celebration
Training


Number of Guests
When designing a room, it's important to know approximately how many people you expect to join. Team hosts can host up to 100 people in a single room. Business and Enterprise hosts can host up to 300 people in a single room.
Default Room Size Behaviors
The default size of a room is 4,000 x 4,000 pixels. As the number of guests increases, the room size will automatically increase. If the number of guests subsequently decreases, the room size will remain at the largest size attained during the room session. Once a room is unoccupied for 15 minutes, the room size will revert to the default.
Setting a Minimum Room Size
A room can be set to a minimum size, for example 12,000 x 12,000 pixels. This is useful if you know there will be 50+ people and you do not want the room to change size while users are in it. Also, if you put room items into a room, you may want them to be spread out in a larger room and visible for the first guests to see.
To set a minimum room size or learn more about choosing the right size room for your meeting, contact us at support@preciate.com.
Background Themes and Room Items
If you want to add branding or customization to your room, it's easy with our background and room item features. More detail follows below.
Music Playlists
There are 20 fully-licensed music playlists. Choose the music that will suit the purpose of the room best, or select None. Room hosts can change the music in a room anytime.
Connected Rooms
If you have added Connected Rooms to your account, rooms can be connected to each other. This allows users inside one room to move directly to another room. Connected Rooms can have their own names, designs, and music playlists or you can make them all match.
Creating, Saving, and Editing a Room
The first step to designing a room is to create the room itself. Only registered users can create rooms. Register on app.preciate.com to be able to create and save a room. You can register with Google, Microsoft, or Apple credentials, or you can use your email. If you already have an account, sign in with that account.
If your company has purchased licenses, reach out to support@preciate.com to request a license be provisioned to you.
Once you have signed in, you will arrive at the home page.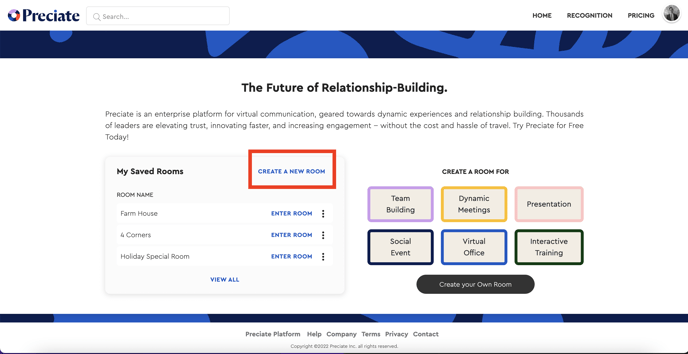 Click "Create a Room" and proceed. Name the room, Choose a background and select a music playlist. You can edit the room later to change the background, add custom elements, and more.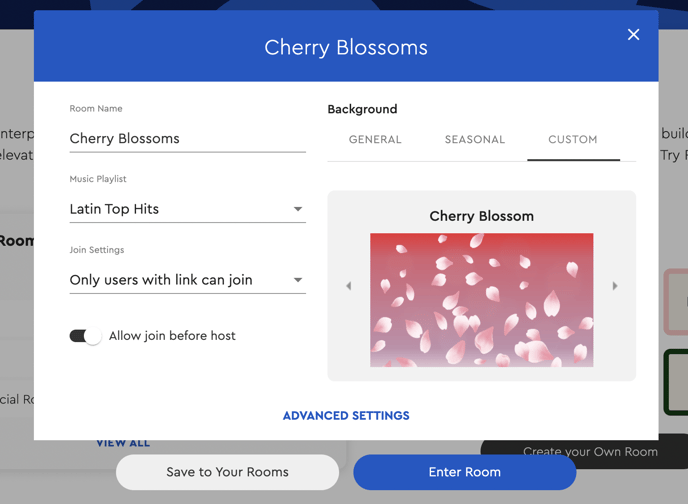 Click "Save to Your Rooms" to put this in your 'saved rooms' list. If you are on a free account, you can only save one room at a time. If you are on a paid account, you will be able to save more rooms than one, depending on your plan.
To edit a room, click on the menu to the right of the room list and select "Edit"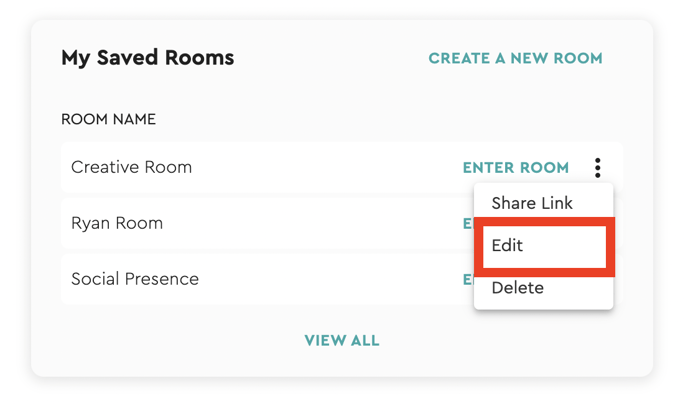 Customizing the Visual Appearance of a Room
There are two ways to design the look and feel of a room: Room Items and Custom Background Themes.
Room items are images, fixed in a specific location in a room. Room items are displayed on the minimap and in the room. They can be used as waypoints for navigation, places for gathering, stops along a sales or marketing journey, surprise elements to delight guests, or anything else you can dream of.
Background Themes provide the color scheme of the room and consist of layered graphics that provide texture, brand essence, and meeting context.
How to Add Room Items
To design a room with items, first determine the room size. Room items can be placed anywhere in a room, including in locations that are outside of the default 4,000 x 4,000-pixel room size. If you place items outside of the default room size, and if the room never expands, the rooms will not be visible.
If you think you will have more than 25 people in your room, we highly recommend setting a minimum room size of 12,000 x 12,000 and using an item configuration that places items outside of the default 4,000 x 4,000 room size. There are standard configuration patterns (listed below) for both 4,000 x 4,000 rooms and 12,000 x 12,000 rooms.
Using Standard Room Item Pattern
Determine minimum room size (4,000 x 4,000 or 12,000 x 12,000)
Choose a pattern from the list below.
Identify the images you want to go in each image slot
Name the images with the image number.
If you have more than one room, you can add the room name to the images.
Upload the images to your file upload folder
Email support@preciate.com and let us know the images are in the folder.
We will load the images, do a quick quality check, and let you know when it's done.
If we have any questions or feedback on the image placement, we will work with you to make the room look really good.
Room Item Images
To load files, you will need a file drop folder into which you will load your files. If you do not have a file drop folder already, you can request one at support@preciate.com. You can also email images to support@preciate.com, if that is easier for you.
Room items must be PNG files with 150 dpi. Regarding image size, consider that a video bubble is 200 pixels in diameter. If you want an item to be visible on the minimap, we recommend making it at least 200 pixels wide.
If you are not sure about the file size, send a bigger one. It's always better to downsize an image than upside it.
Using Custom Room Item Configuration
If you want to layout your items in the room in a way that doesn't fit one of our standard configurations, you can do a custom room layout.
Companies using us for marketing events, lead generation, sales discovery calls, and larger sales meetings often require custom room item configurations.
Contact us at support@preciate.com to discuss project scope and costs.
Standard Pattern Configurations
To make it easy for you to design an engaging room, there are 12 standard patterns to choose from: seven for 4,000 x 4,000 rooms, and five for 12,000 x 12,000 rooms .
4,000 x 4,000 Patterns
All of these items will be visible if the room remains at the default size. They will also be visible if the room expands, but the items will not move. If you expect a large crowd, choose a pattern for a larger room and have us set the minimum room size to 12,000 x 12,000 (this is available upon request).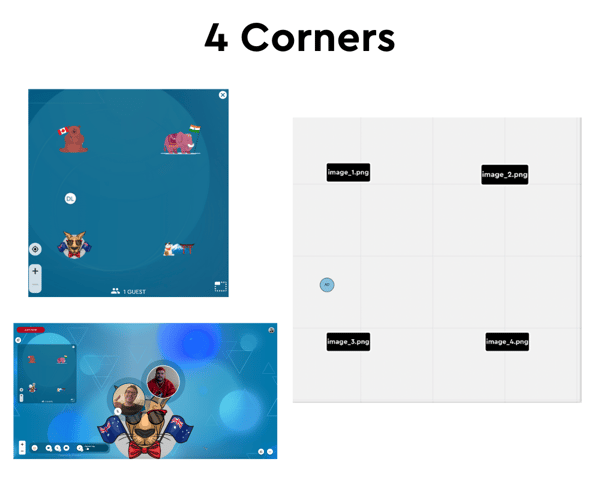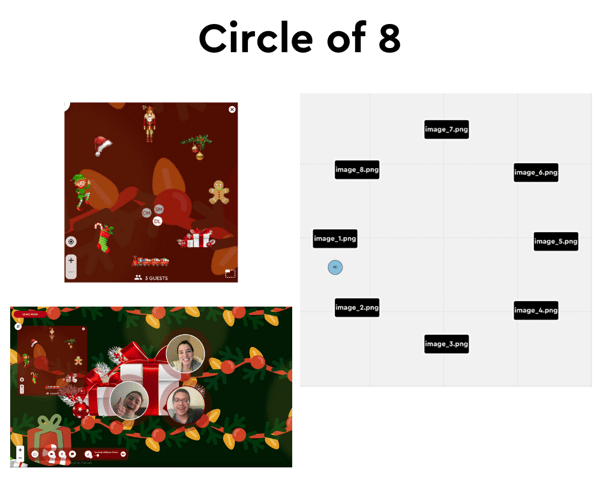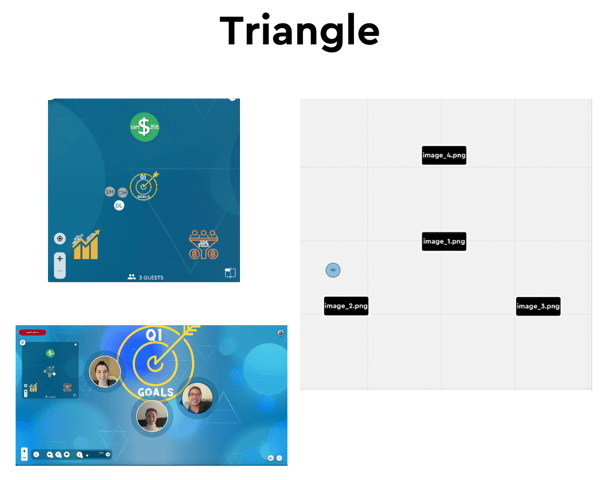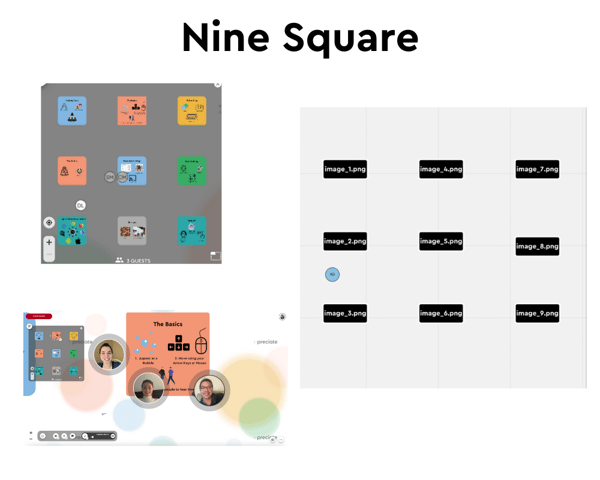 12,000 x 12,000 Patterns
For 12,000 x 12,000 pattern Reference Rooms please contact support@preciate.com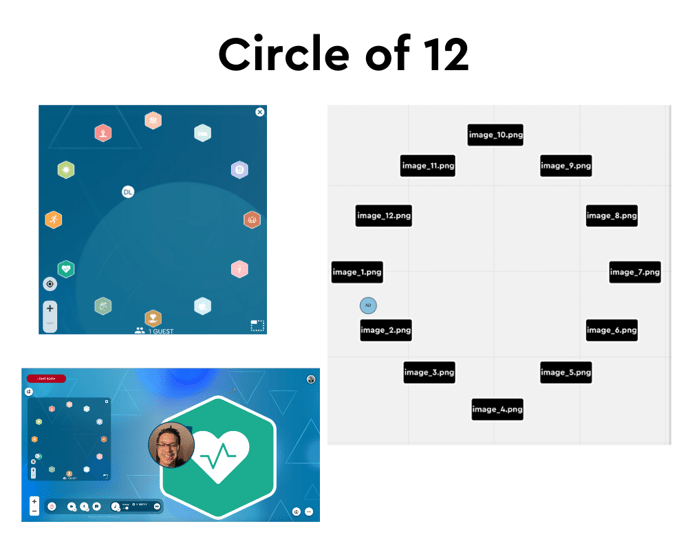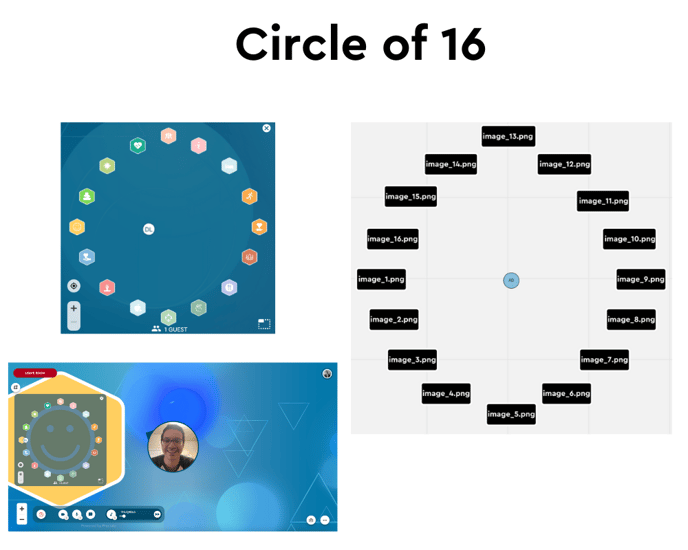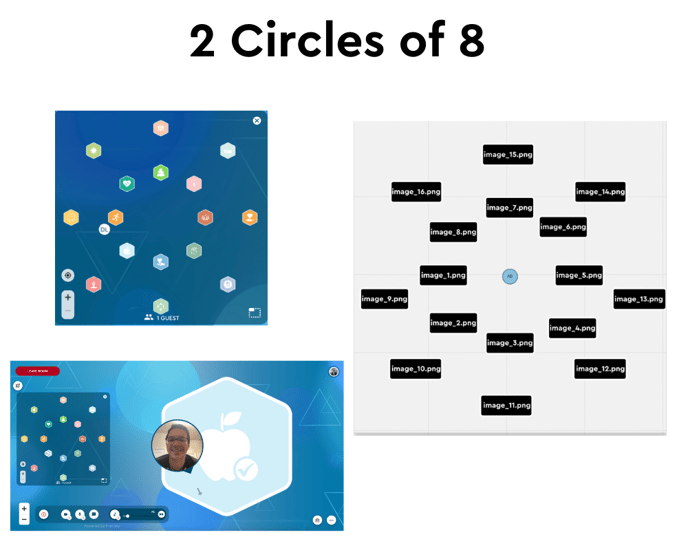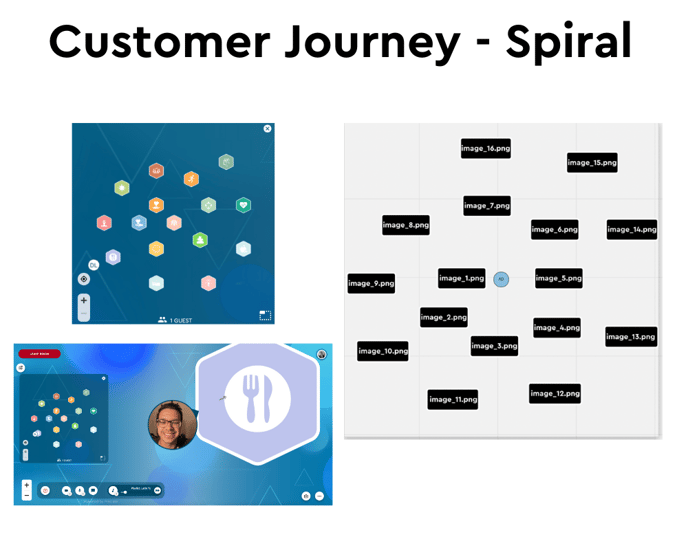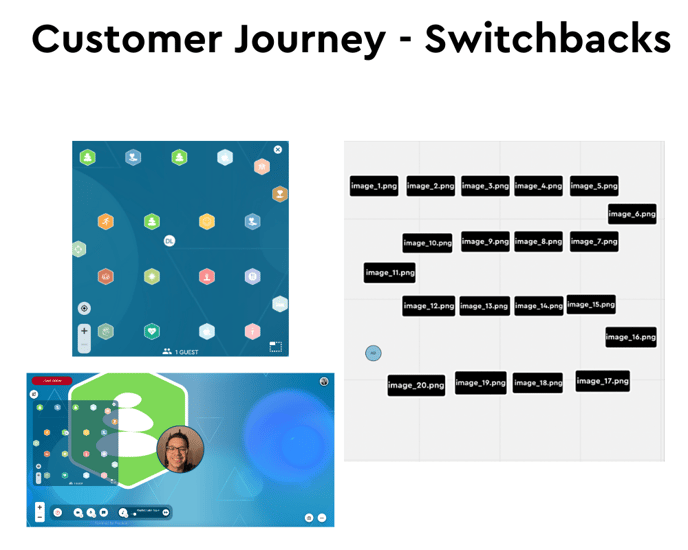 Background Themes
There are over 40 ready-to-go background themes available when you create a room. If you would like to create your own background theme, we are happy to facilitate.
As a reminder, backgrounds are not navigational; they provide context and branding to the room.
What You Need to Send Us
Three Images

Each image should be 1920px by 1080px
.png format
Label the images "far.png," "mid.png," and "near.png"

Background Color (if applicable, see below)
Primary Color (ex: #327d9f).

The primary color will be used for the mini map, control buttons, toolbar, header, rings around bubbles, etc...
This color should contrast well with white (#FFFFFF) as well as your background color— see this link to check your color's contrast accessibility scores.
Let us know if you need help choosing a primary color.
Specifications/Notes
The top two layers (mid and near) should be transparent, but the "far" one can be opaque.
Background Color (ex: #180a23). If you choose to use a transparent image for your bottom layer, you will need to choose a background color. This does not apply if your bottom layer is opaque.
These files will layer over each other in the virtual room and will appear to move at different speeds as a participant moves around. The furthest layer (on the bottom) appears to move the least and the nearest layer appears to move the most.
Backgrounds do not stretch to fill the whole room, but instead tile themselves. Keep this in mind when designing, and either create a design that does not touch the edges, or think of your 1920 by 1080px assets as pattern tiles and use the tiling to your advantage.
Suggestion: Before you begin designing your custom background, feel free to create a room and choose one of our ready-to-go backgrounds to view and experiment with how the layers interact when you move around in the room.
Don't forget to decide on a background name (ex: "Branded Company Background"). The name will appear with your background in your custom background folder, and does not affect the name of rooms using that background. You can change the name of the background later.
Send assets and the name of the background to support@preciate.com or upload to your Preciate file upload folder. Our support team will review your assets and provide any technical feedback for necessary changes. If no changes are necessary, we will put your custom background into a reference room, and send you a link to enter the room and review it. Once you verify that the background looks as it should, let us know, and we will add your custom background to your company's "Custom" backgrounds tab in the room creator. Then you (and everyone else at your company) will be able to use the background for any of your rooms.
Support and Resources
If you would like additional information or help, just reach out to support@preciate.com. Preciate now offers Turnkey Meeting Services for companies looking for extra support planning or running their meetings. Learn more here