This comprehensive guide details every aspect of the Room Creation process for designers and users looking for maximum customization.
Introduction
Scoot offers a unique and interactive way to host meetings and events, fostering better engagement and creativity among participants. This guide is designed to walk you through the process of crafting your own Scootaverse, providing valuable insights and tools to enhance your meeting experiences. Whether you prefer to use ready-to-go themes or unleash your creativity with customizations, we have you covered!
Design Considerations
Before diving into the design process, it's essential to consider the purpose of your Scootaverse and the expected number of attendees. Scoot rooms can be used for a wide range of events, from networking gatherings to large business meetings, recruiting, onboarding, team gatherings, all-hands sessions, and training sessions. Understanding your event's scope will help you create a room that perfectly complements your objectives.
Capacity
One of the primary factors in designing your Scootaverse is your intended event capacity. Your Scootaverse capacity cannot exceed the maximum capacity for your license. Be sure to choose a room size that best suits your needs. Scoot offers 6 room sizes to accommodate events with as little as 10 participants in a room to ones that can comfortably fit 300.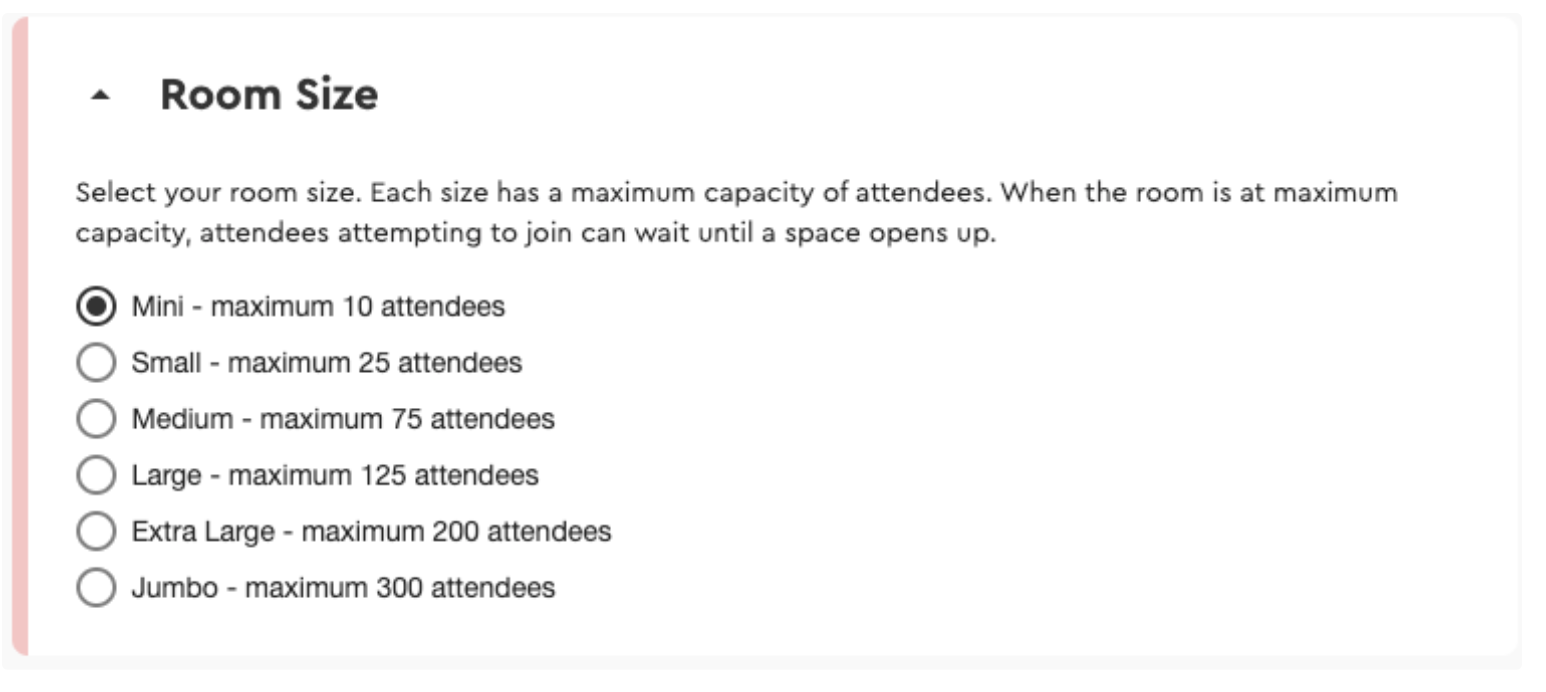 Event Theme
Scoot offers over 40 pre-designed background themes and 20 music playlists to instantly set the context for your meeting. If you want to add a personal touch, you can customize the visual appearance of your room using room items, call to action buttons, and custom background themes. These elements allow you to display images as waypoints, gathering spots, branding elements, or anything else you can imagine. Having a clear idea of what you'd like the thematic elements of your meeting to be is key to designing a cohesive Scootaverse.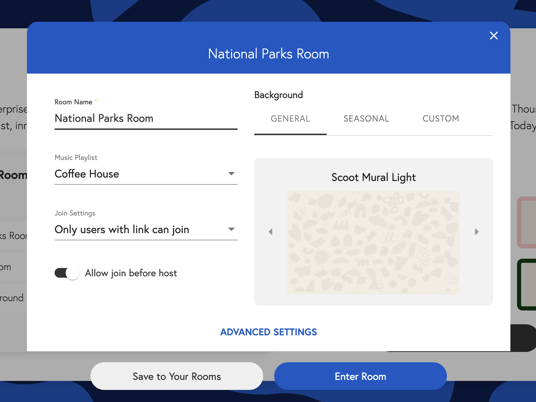 Entry Room Flows
In Scoot, you have the ability to define the pattern and logic by which users enter rooms within a Scootaverse. Use these entry flows to create a smooth and personlized experience for each of your participants:
Default Entry Flow
The Default Entry Flow defines the pattern that users follow when entering a room in the Scootaverse. The default option is a spiral pattern that begins near the center of the room and expands outward. Additionally, there is an option to use a grid pattern, where users are placed in groups based on the room's capacity and evenly spread throughout the room. The Default Entry Flow is ideal for general scenarios and situations where specific customization is not necessary.

Custom Entry Flow - People Proximity
The Custom Entry Flow provides a higher level of customization and allows you to apply special logic for user entry. It involves designating "Group Formers" and "Group Fillers" to create a more tailored experience for users. Group Formers are users who initiate a group, while Group Fillers are users added around the Group Formers. The Custom Entry Flow is suitable for webinars, All Hands meetings, networking events, and scenarios where a specific grouping logic is desired.
For more information on how custom entry flows, click here.
---
Creating, Saving, and Editing a Room
To begin designing your Scoot Room, you need to create the room itself. If you're a registered user, you can sign in to create and save your rooms. Based on your account type, you can save multiple rooms, enabling seamless customization for various events. Once your room is created, you can edit it later to change backgrounds, add custom elements, and refine its appearance.
Adding Room Items
Room items are pivotal in personalizing your Scoot Room. By placing images strategically within the room, you can create visually engaging spaces that suit your event's objectives. We offer standard room item patterns or you can opt for a custom layout. Room items can be any size, but should generally be larger that a typical user bubble (around 200 pixels in diameter).
Call to Action Buttons
Call to Action buttons give you the ability to add a custom button to your room that is hyperlinked to any video, document, website, etc. When the button is clicked, a new tab will open with the link assigned to the button. You can use these CTA buttons to create interactive spaces within your Scootaverse.
Background Themes
Our collection of ready-to-go background themes ensures you find the perfect ambiance for your meeting. If you prefer to create your own background theme, our support team is more than happy to assist you through the process. Remember, backgrounds serve to provide context and branding, creating a visually appealing atmosphere for your attendees.
Customizing Background Themes
If you'd like to create a custom background, you have the option of uploading one of our stock parallax backgrounds or a large image background:

Parallax backgrounds use three layered images to create the notion of movement in your room. To design a parallax custom background theme, you'll need to provide three images with specific dimensions and formats. These layered graphics add depth and movement to the room as participants move around.
Parallax backgrounds require three PNG images sized 1920 x 1080 pixels

Image Backgrounds empower you to design captivating virtual spaces by incorporating a single, continuous image as the background. This unique capability allows participants to experience dynamic changes in their surroundings as they move throughout the virtual room. For instance, Producers can choose to set a map as the image background, enabling participants to navigate and explore the map within the room.
The recommended size for Image Backgrounds corresponds to the selected size of the room you choose for your event
---
Conclusion
Designing a Scootaverse allows you to create captivating and interactive meeting spaces tailored to your unique requirements. Whether you choose from our array of pre-designed themes or venture into customizations, Scoot empowers you to host successful and engaging events that leave a lasting impression on your attendees. Take advantage of our comprehensive guide, and get started on designing your Scootaverse today!
All functionality to customize your Scootaverse has not yet been released. If you are planning an event and would like to customize a Scootaverse, or have specific questions about uploading custom items or backgrounds please contact support@scoot.app.