Some browser settings and ad blockers can prevent our web pages from rendering.
If you go to any web page and the page is blank except for the chatbot in the lower right-hand corner, your browser is likely doing something that is preventing our web pages from loading. Below are few possible situations that may cause this.
Your browser is Edge and your Privacy settings for Tracking Prevention are set to Strict. When your settings are Strict, this often prevents web pages from working properly, ours included. To update these settings, go to Settings, Privacy and Services, and Tracking Prevention. The Microsoft recommended settings is Balanced and will allow Preciate to render.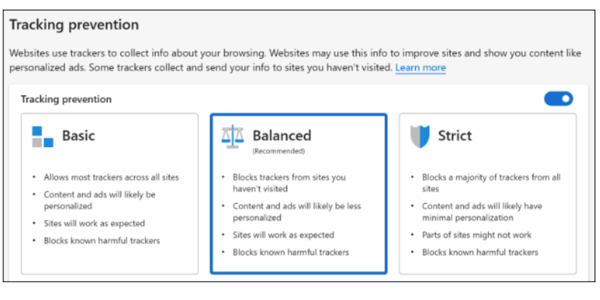 2. You may have Ad Blockers or other security plug ins installed to your browser. Sometimes Ad Blocker or security plug ins will block web pages they're unfamiliar with. Disabling these will allow the pages to render.
3. Sometimes, your company will have firewalls that prevent some web pages from rendering. In this case, please follow up with your IT department to whitelist the platform.