Presenting is one of the most popular ways to bring content into a meeting that has great socializing and networking, too. Here are a few tips and recommendations to make presenting smooth and effective.
Presenting Tips
Keep it simple.

Do a run-through

Have your presentation ready

If you are going to share a screen or application, have it ready to go before you join the event. When you are ready to present, the host will ask you to present. Accept the invitation and you will be placed into presenter mode.

Share your screen by clicking on the screen icon in your video window. (The window where your video appears.)

Manage crowd volume





Take questions via Chat




You can open the chat sliding window by clicking the chat icon.

Mingle and move after you Present
After your presentation, you will be returned to the room. Mingle and move around so participants have a chance to say hello, ask questions, and provide feedback.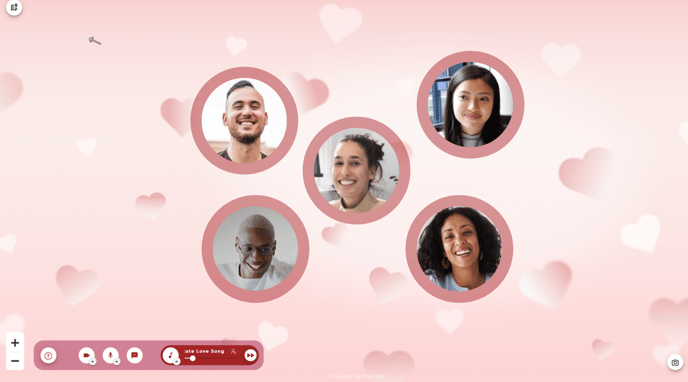 Additional Information
We highly recommend using Chrome or Edge, latest versions. It is possible to present using Safari, but Safari does not allow sharing of application windows or tabs and only allows full-screen sharing.
Be sure you have enabled your browser for screen recording. This needs to be done at the Operating System level. Most browsers already have been enabled for screen recording (for Google Meet or other video apps), but yours may not have been yet.
Wear headphones for the best audio experience. This will eliminate any chance of echoes.
At present, you will not be able to see any participant faces, and they will not see yours, while you are sharing your screen. We are working on adding this feature.