A step by step guide to installing and setting up Preciate within Microsoft Teams.
Preciate has made the difficult decision to sunset the Preciate Recognition platform. This decision was made largely due to a fast growing interest in Preciate's virtual meeting platform, and our increased need to dedicate resources to the development of that product.
Please read on for more information about the timing of the recognition application shut down.
April 30: Sunset of Support for iOS, Android, and Slack Apps
On April 30, 2023, we will sunset Preciate Recognition's iOS, Android, and Slack applications. The applications will be removed for download from their respective app stores, and we will no longer provide support for any bugs or technical issues experienced by those still using the apps.
July 31: Sunset of Recognition Platform, including Web and MSTeams Apps
On July 31, 2023, we will turn off the web and Microsoft Teams applications for Preciate Recognition. Users will no longer be able to give and receive recognition anywhere at this point and all access will be revoked.
Preciate is publicly available through Microsoft Teams app marketplace - AppSource. It can be installed from either AppSource or from the integrated app area within Microsoft Teams itself. This guide will focus on installing from Microsoft Teams.
NOTE: If you're unable to perform any of these steps as outlined below, you may not have the appropriate permissions to install an app in Microsoft Teams. In this case, please coordinate with your IT department.
Steps:
1. Decide what team you want to install Preciate into.
TIP: If you're interested in checking Preciate out but only want to use it with a few people to start, create a new team and invite the people you want to use Preciate with.

2. Navigate to the Apps Tab in Microsoft Teams.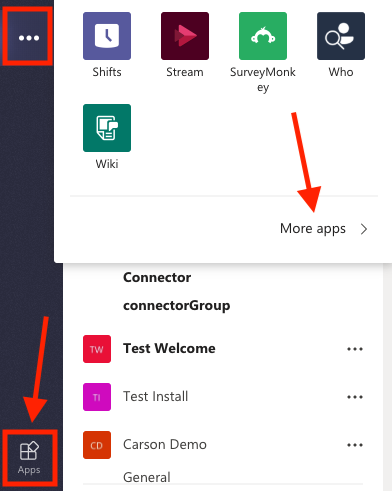 3. Search for Preciate in the search bar and click on Preciate.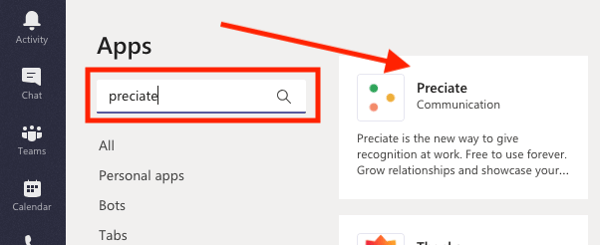 4. Preciate can be added to a Team or to a specific chat. Click Add.
TIP: To get the most out of Preciate, it's recommended to do both, but opening the drop down menu lets you choose one or the other.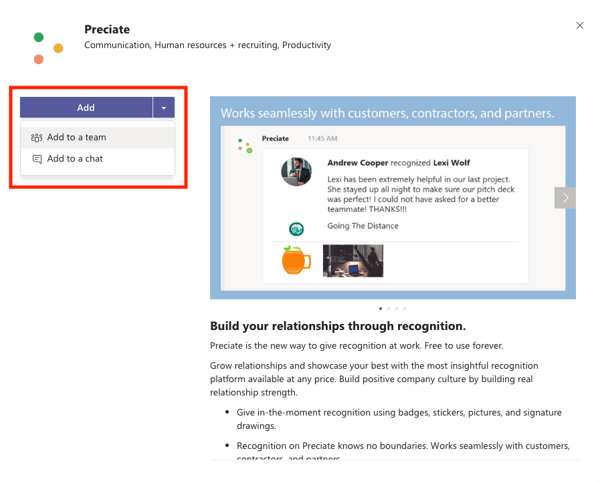 5.
Select the team that you want to install Preciate into. Click
Set Up
.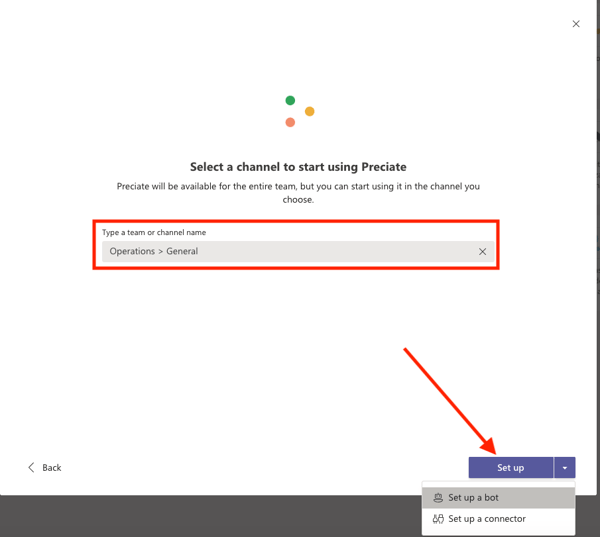 6. Preciate will send a welcome message to the General channel of the Team you selected. This message contains information on how to use Preciate and a button to Sign Up.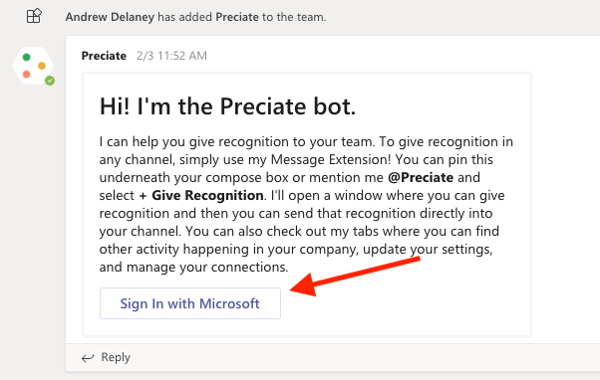 7. You're done installing Preciate! Now click Sign In With Microsoft on the welcome message to get started giving recognition!