To get access to reports, you will need to become an Admin of your company's Preciate account. Then, navigate to the Reports section of the Admin portal.
Preciate has made the difficult decision to sunset the Preciate Recognition platform. This decision was made largely due to a fast growing interest in Preciate's virtual meeting platform, and our increased need to dedicate resources to the development of that product.
Please read on for more information about the timing of the recognition application shut down.
April 30: Sunset of Support for iOS, Android, and Slack Apps
On April 30, 2023, we will sunset Preciate Recognition's iOS, Android, and Slack applications. The applications will be removed for download from their respective app stores, and we will no longer provide support for any bugs or technical issues experienced by those still using the apps.
July 31: Sunset of Recognition Platform, including Web and MSTeams Apps
On July 31, 2023, we will turn off the web and Microsoft Teams applications for Preciate Recognition. Users will no longer be able to give and receive recognition anywhere at this point and all access will be revoked.
The only people who can see their company's reporting suite are company Admins. You can become a company Admin by starting a free trial, purchasing Preciate+ or Premium, or being assigned as an additional Admin at your company.
If you are a company Admin, you can navigate to the reports sections of the Admin portal. Start by clicking the profile icon in the upper right corner of the web app to open the dropdown menu. Then, select the option with your company name and "Admin."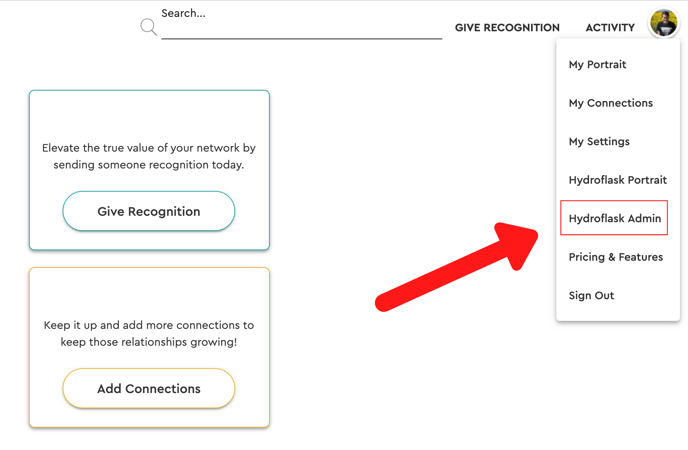 From the Admin portal, select "Reports" in the left-hand menu.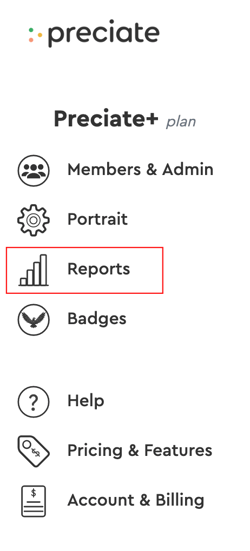 After a few seconds of loading, you will be able to see the first page of the reporting suite. Navigate to the different reports by clicking through the tabs at the top (Leaderboard, Individual Activity, Core Values, and User Management).
For a more detailed guide of Preciate's reports, check out this article.