Hosts can control the music playlist for everyone in a room, but each participant can turn off or on the music they hear.
In a room, only the host can choose the music that will play for everyone.
Once the room has been created, the music can be updated at any time during the social and can be adjusted from the controls on the edges of the screen.
Change music playlist (Host Only)
To change the music playlist, click the button on the right labeled "Music Playlist."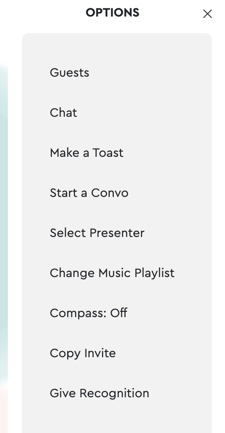 A modal will pop up displaying the currently selected music channel.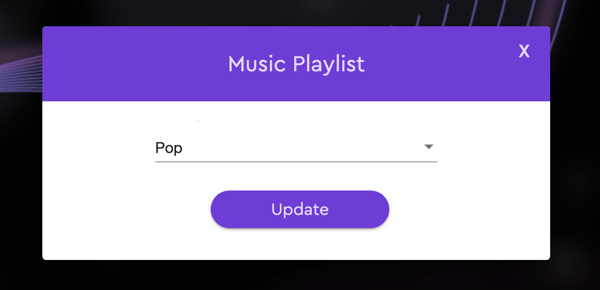 Clicking the drop-down menu will allow you to select from a variety of options. The playlists with the yellow ribbon are premium music playlists, which are available for free to users in the US and Canada.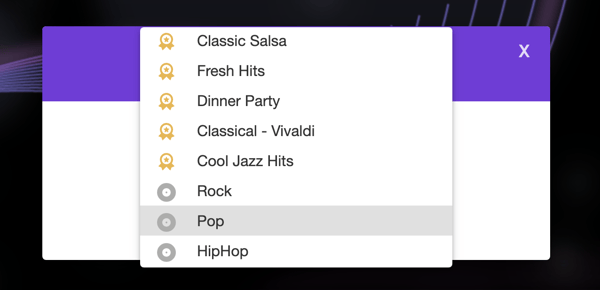 Once you make your selection, the menu will collapse. Clicking "Update" will dismiss the modal and update the music for all participants within the Room.
The only way to turn the music OFF for everyone is for the host to select "None" in the music playlist area and update their selection.
Change music volume (Individual)
Each individual participant can adjust the music volume that they experience by sliding the volume to your desired location. The slider is located at the bottom of the screen, and it displays the playlist currently streaming into the social. Premium music playlists include the album, artist, and song names.
Each person can also turn their music off altogether by clicking the music symbol once and again to turn it back on.

These controls will not affect anyone else in the Room. If someone turns off their own music, it will not affect anyone but themselves.
Change speaker selection (Individual)
To change the speaker that the music is coming out of, click on the arrow next to the music symbol on the slider. This will pull up the speakers you have connected to your computer. Choose the one you want by clicking on it, and then click away to save your selection.